First I'd like to wish all of you a very Merry Christmas!

Here's what all we did:

Last night was Christmas Eve service at church. We had the kids with us, but then dumped Olive in the nursery when she started complaining about her life and Josie wanted to go with her and play with the toys and there was coloring in there so there would be no getting Josie back for the candles.

Josie is confused about why it isn't snowing, and I'm trying to explain how science and religion aren't as linked as some would like.

Christmas morning was perfect. Marc made quiche. I woke up at 4am to do the santa clausing, which is not a weird time for me to wake up, but then I went ahead and went back to bed and we all slept in until 8.

The presents were great :) Per your recommendations I did not get a makeup kit and held off on the legos. But the dollhouse and marble rally were a go, and huge hits!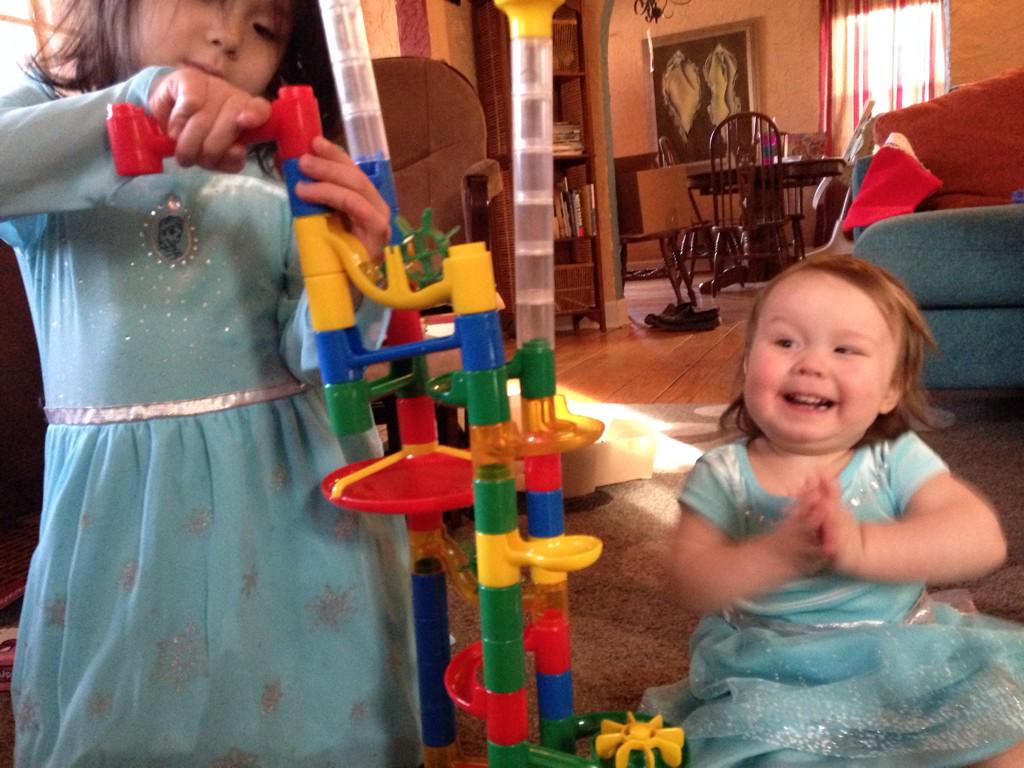 Olive was somewhat traumatized by gift unwrapping, she does not approve of ripping paper, but after we got around that she loved the toys more than I thought. I really just got her a couple books, assuming that the marble rally and dollhouse would be above an 18-month-old. But she's been adorable with the dollhouse today, putting dolls in tiny beds and telling them "shhh!" And she can't build the marble rally but loves putting the marbles on the tracks and isn't eating them!

Josie did some building, and some cute quiet dollhouse story building, but it's mostly craft day because she got craft supplies... paints and things to paint, stickers and glitter glue.

Last weekend Marc took her out to a party with his camping/burning man friends. They were all sleeping in this big huge lodge and there'd be dancing and glow sticks. Several people brought kids, so there was a craft table for kids. Marc said Josie was there all night. Just stationed, using glitter on as many projects as possible. Finally a little after 1 in the morning she said she felt a little sleepy. That's the kid we've got these days.

Went to my inlaws for a nice Christmas dinner with ham, came back and let Olive sleep off her crazy day, there are still toys everywhere and we haven't even played "Guess Who?" but we'll get there.

Everything was wonderful, we are very blessed, I hope you are too.