Yup I'm still on Etsy. I shall post about it... oh gosh my current frequency is about twice a year.
But with everybody's holiday shopping going on I figured this was a good time, especially with shipping deadlines looming.
Buy handmade! It's fun.
I run a site called
EtsyContest.com
- sort of a hot or not for Etsy things. Today's contest is desk items. Your friends might need office stuff!
Last month we had a contest that was all sharks. The winner: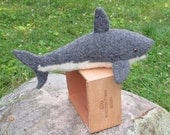 1st place November 12th, 2015
Theme Thursday! Shark items from $1-$50.
Great White Shark Stuffed Animal, handknit plush shark. Handmade Stuffed animal.
by FeltedFriends


It has a big page of
coupon codes
- artists who REALLY want you to visit them. They sign up themselves, make their own discount codes, they need your love.